Family and life | Famille et vie | Familia y vida | Familie en leven
Familie und Leben | Famiglia e vita | 家庭与生活 | الأسرة والحياة
Our Lakefront Cottage is the perfect destination for a family reunion! You will love waking up to our incredible waterfront view of Crystal Lake. Savour an early morning cup of coffee while seated on one of our Muskoka chairs on our private dock. Share in the joy of preparing meals together around the island of our spacious, fully stocked kitchen, then convene around the large harvest table that will comfortably seat your whole family (our table is also a great place to gather for an evening of board games and raucous, competitive family fun!).
Our 6-bedroom, 4000 square foot house sleeps 16 people. All bedrooms are on the upper level; there are two shared 3-piece bathroom for easy accessibility.
The open interior of the cottage Is designed to create a feeling of unity and accessibility, while also providing the space for people to spread out and engage in multiple activities at once. Separated only by a balcony railing, our upstairs games room – complete with a pinball machine, shuffleboard/curling table and a TV with video console, can be enjoyed by the kids while the adults gather in the comfortable living room below to shoot a game of pool or relax with a glass of wine and a fireside conversation.
Plenty of Activities for Everyone
Spend your days outside in nature, enjoying all the amenities our expansive property has to offer!  The young ones will love playing in the water, jumping off the landing pad and bouncing on the water trampoline! Grandpa can teach his grandchildren how to catch their first fish right off the dock! The easily accessible private sandy beach has a shallow-walk-in, perfect for young children and grandparents alike.
The older folks will love the relaxing atmosphere, the tranquil natural surroundings and gathering around the firepit at night. Utilize our outdoor barbeque to create delicious memorable meals everyone will enjoy! (*See Amenities page for full list Outdoor Amenities).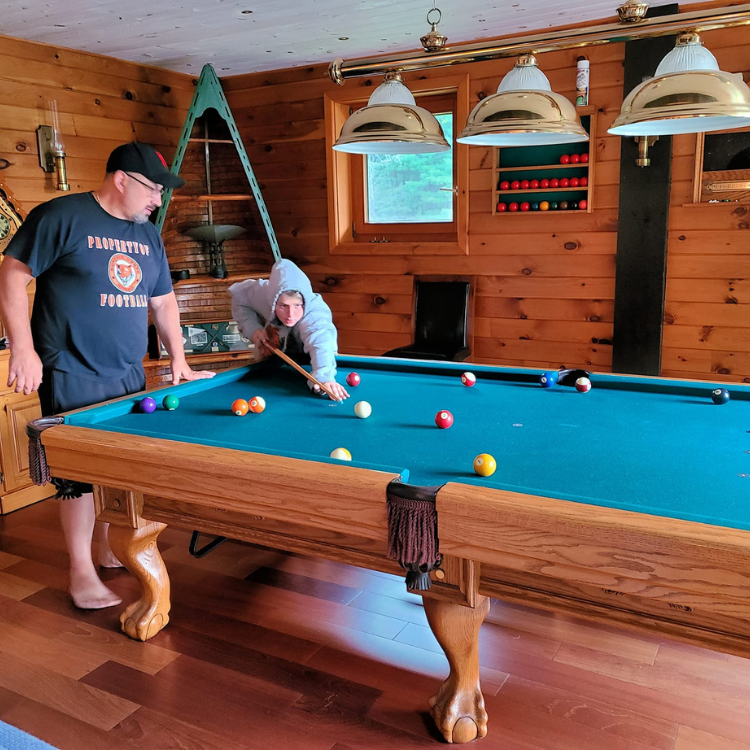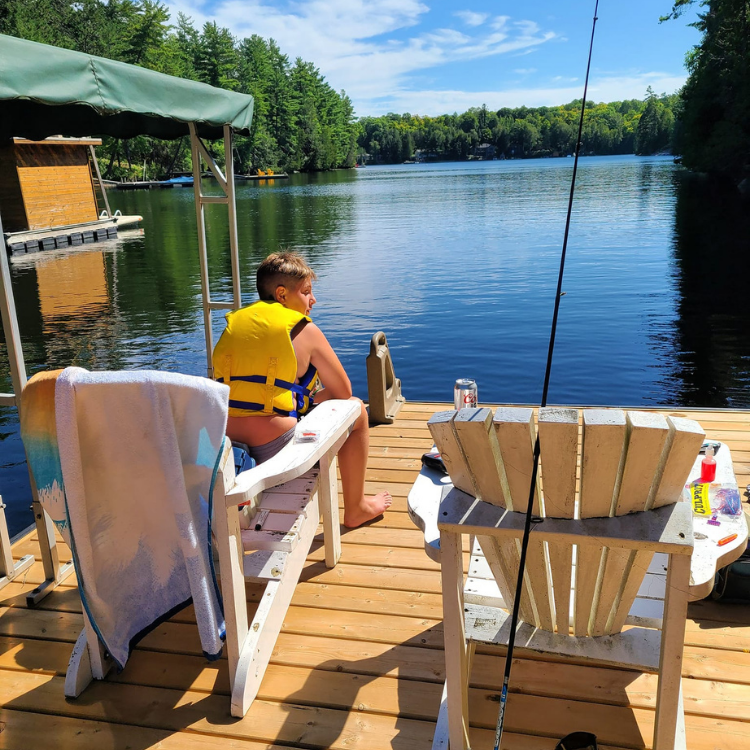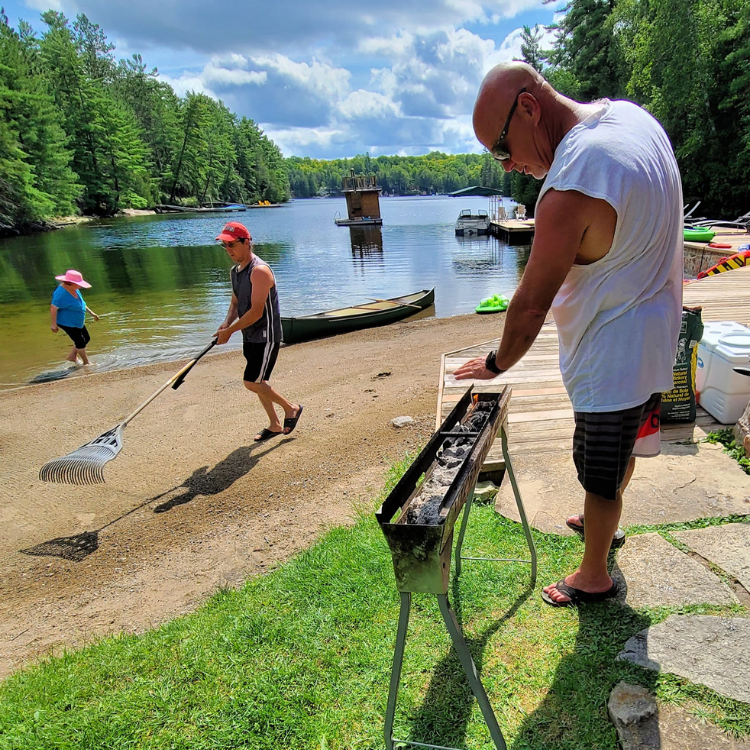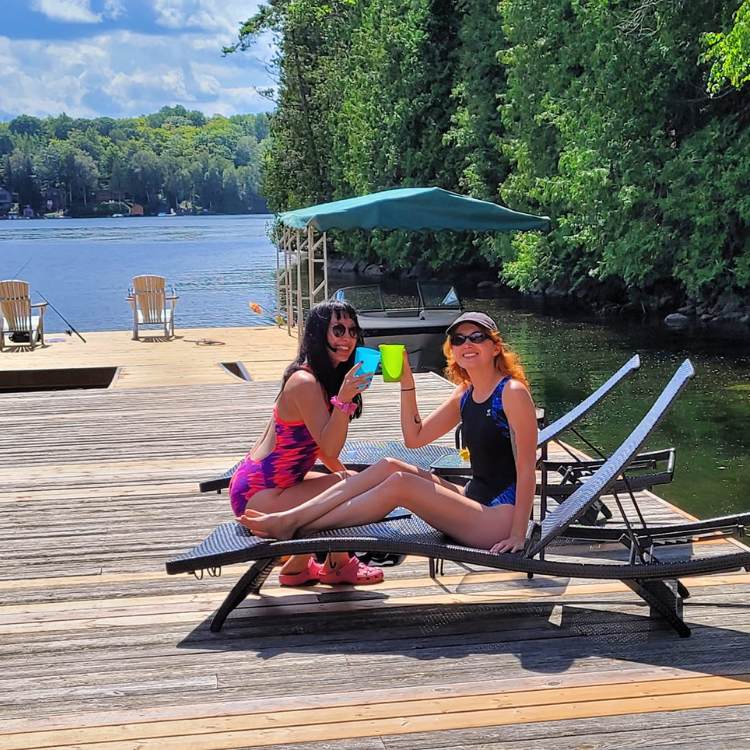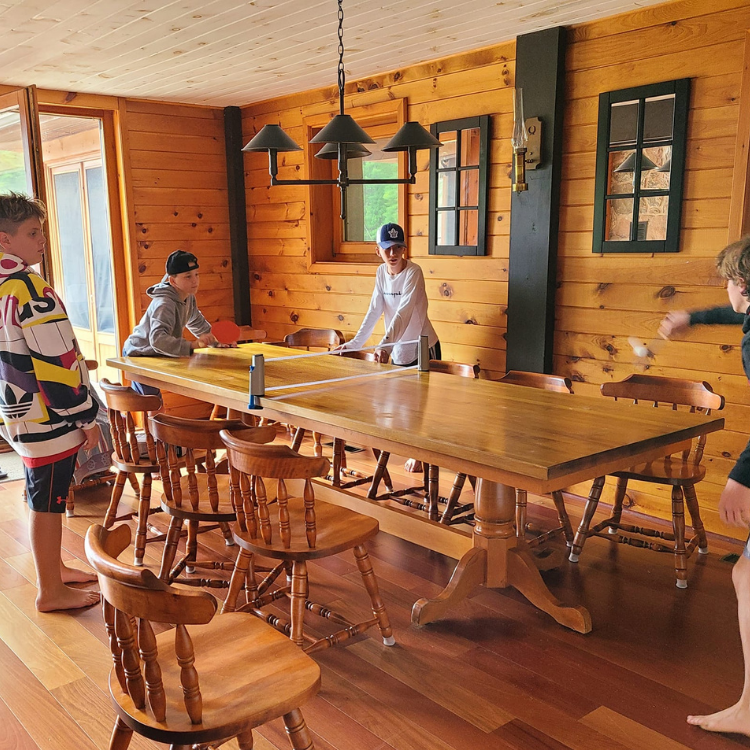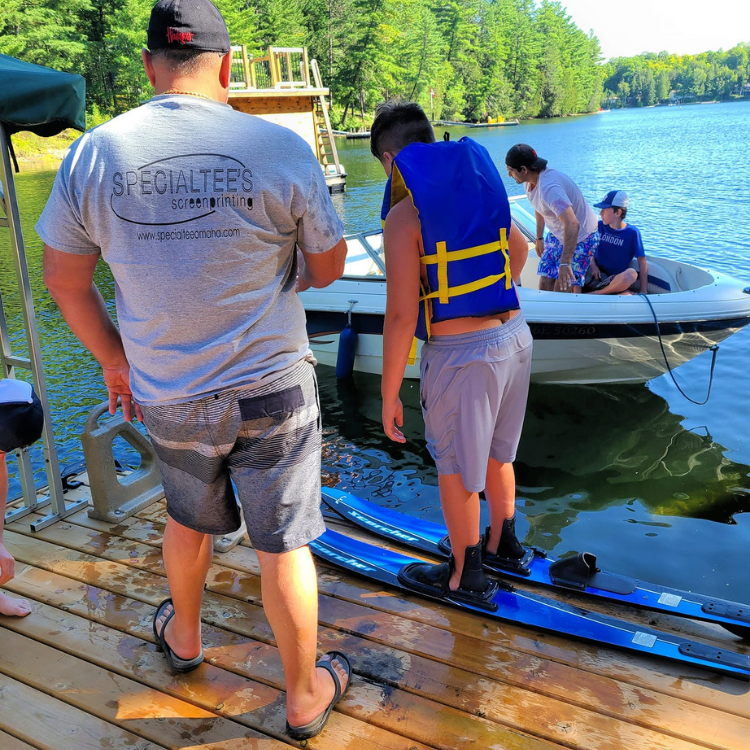 Want to explore what our local communities have to offer? Being in the heart of cottage country, we are surrounded by places with all-seasonal fun & recreational activities. Head up to Minden for the day to experience the Minden River Run. Float in an inner tube and experience nature through the easy twists & turns of a lazy river. (Want something a bit more adventurous? Try white water rafting at the Minden Wild Water Trail!)  Or spend an afternoon at Fenelon Falls taking a boat ride or cruise through the historic canal! (*See Seasonal Activities)
During a day of fun in the sun, take the whole family out for lunch for a local favorite! We're only a 30-minute drive from Kinmount Fish & Chips, a favorite spot where you can enjoy delicious fried fish while sitting at the picnic tables overlooking the water's edge. Then take a leisurely drive up the road to Bobcaygeon while listening to Canadian legends, "The Tragically Hip". Make a pit stop at Kawartha Dairy and savour the delights of homemade ice cream while enjoying the city's famous historical downtown. (*See "Seasonal Activities" page for full list).
If you are looking for a home to host a family reunion this year, our Lakefront Cottage is your perfect location! We know you'll feel right at home and will want to make our cottage your annual tradition!  Check out these testimonials from some of our previous guests.
Rung Family
This is an absolutely beautiful cottage. Rented it during the 2021 summer, we had a group of 14 that included children and seniors.  
There were amenities galore that are too numerous to mention, there is something to keep all ages entertained.  

The hosts Micheal and Tara were great, communication was excellent and the booking process was seamless.
The location and views are stunning, there are no neighbours and you feel like the lake is all yours.  The location is at the end of a small Bay Area off the main section of the lake so there is zero boat traffic to be concerned with while swimming.  

There is plenty of dock space for boats, fishing and lounging.  There is also a shallow entry point off a small beach area for the younger guest and/or seniors.
There is a floating sauna that was awesome and very unique as well as a hot tub, large screened in sunroom, fire pit and bbq to use.  The bedrooms are large and more than adequate for our needs.  The kitchen is gorgeous, well stocked and lacked nothing we needed.  
If you prefer to hang out inside there is shuffleboard, pool table or IPTV to keep you entertained.  The wifi worked well and allowed some of us to do a bit of work while here.
As I said earlier there are too many features to mention them all, this is an excellent cottage in a terrific location.  Hoping to go back in 2022.  
The Smith Family
If you are looking for the perfect place to vacation in the Kawartha area, Crystal Lake is your spot! I've had the privilege of staying at "My Lakefront Cottage" two times now, once in the summer and once in the fall, and both of my experiences surpassed my expectations.
Summer at the cottage was perfect. the sandy beach, clear water, expansive dock and boat were great ways to fill our days. It was so nice to enjoy the outdoors in the privacy of the Bay, not having to worry about bothering neighbors. The floating sauna and screened in hot tub were two of my favourite amenities!
I didn't know that my summer stay could be beat, but I returned for Thanksgiving weekend with my family and the property, and surrounding property, offered just as much fun as it did in the summer. The views of the changing leaves were spectacular and the hiking trails were breathtaking.
The inside of the cottage was the perfect place to relax after day in the sun. The large kitchen was great for the chefs and bartenders in the group and the pinball machine, pool table and curling table provided hours of fun for everyone at night. Since the cottage has two large living rooms, it was easy to accommodate our large group on both floors, and the large balcony allowed us to feel like we were all together.
The owners,  Mike and Tara, were great to work with right from the start. Mike answered any questions we had promptly and thoroughly and went above and beyond to ensure that our group had what we needed to make the most out of our stay. 
We look forward returning to this oasis this summer, and for many summers to come!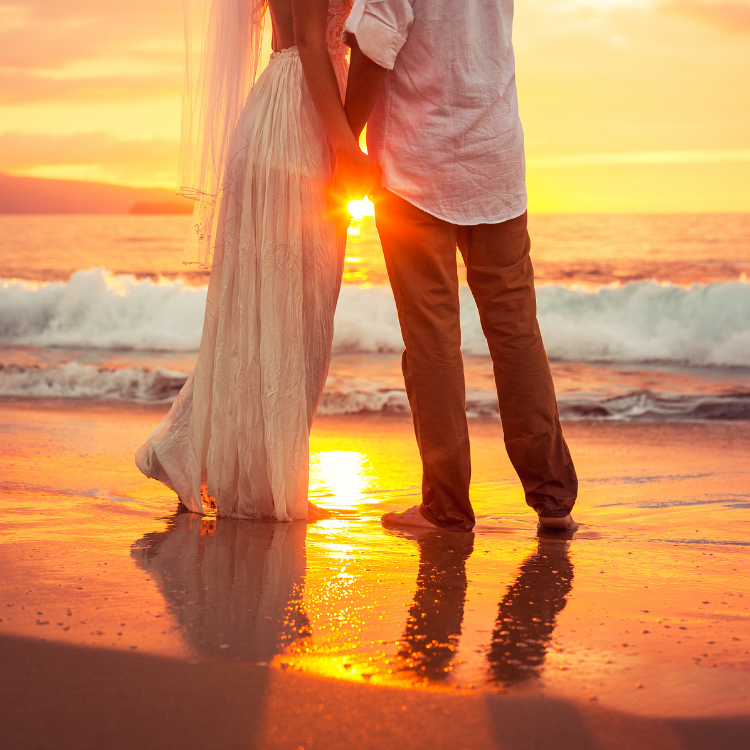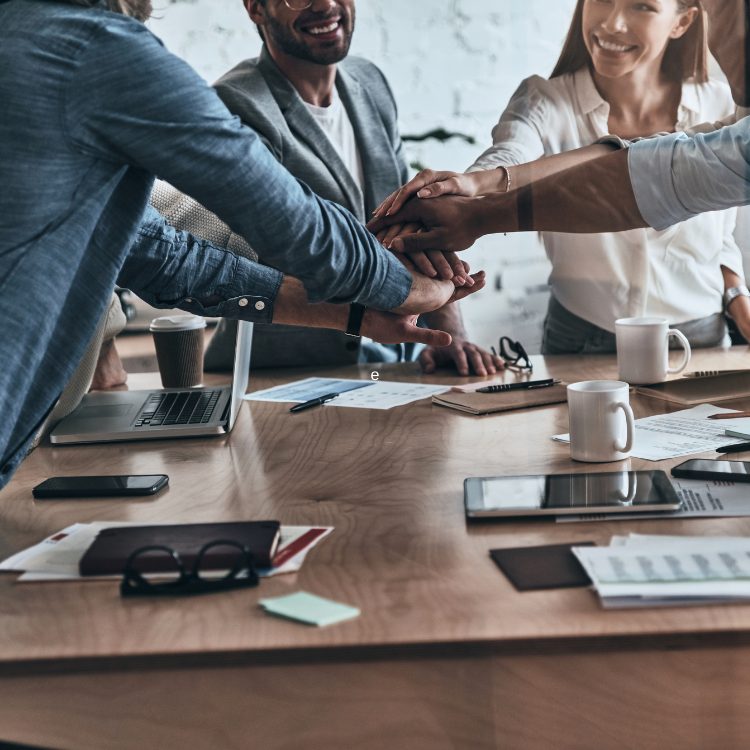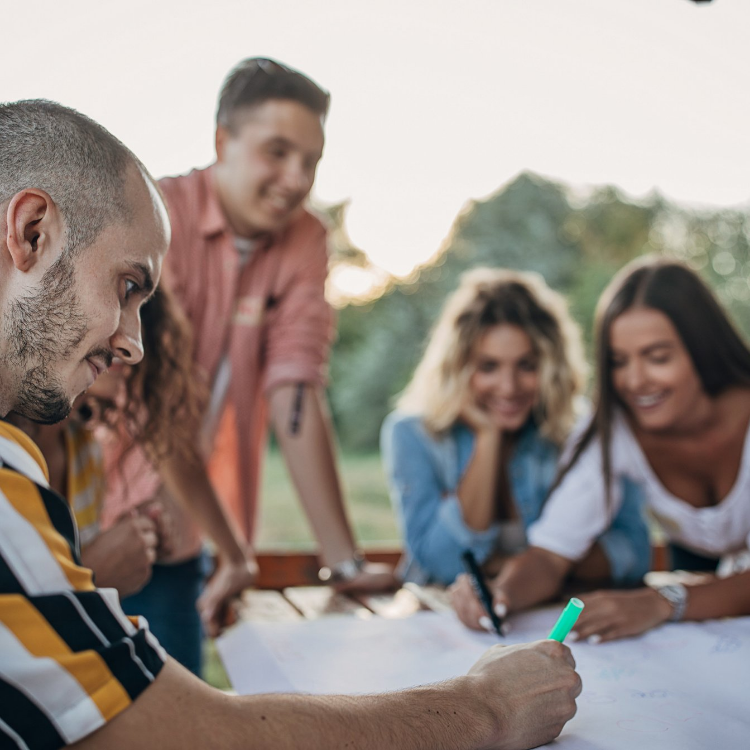 Let Us Help Turn Your Vacation  Dream Into A Reality!