Want to spend less time in the kitchen and more time relaxing? We've got you covered! We utilize the local catering services nearby Peterborough, Ontario. Below is a list of our standard breakfast & lunch catering menu. 
Want to customize your menu for a wedding reception? Need your corporate event catered? Let us know what your dietary and culinary preferences are, we will work with you to provide you with options that your whole group will enjoy!
*Egg McHoney
poached egg, toasted english muffin slice of smoked ham mayo, tomato & lettuce and cheddar cheese side: roasted potatoes + salad
Egg Burrito
scrambled eggs black beans+ cheddar w/ chopped lettuce, tomato & mayo wrapped in a tortilla
Fresh Fruit Granola Parfait
fresh fruit, yoghurt dried cranberries, pumpkin seeds & local honey
Quiche of the day
w/ side salad)
BBLT
bacon, lettuce & tomato on Kawartha Bakery gigantic bagels w/ mayo + lettuce
Bakers French Toast
house made bread pudding pan fried drizzled w/ raspberry coulis side of fresh fruit + maple syrup
WEEKEND ONLY
*EGGS BENEDICT!
poached eggs on toasted English muffin topped w/ house-made hollandaise
MAKE YOUR CHOICE!
SMOKED HAM with chives
HUNTER with smoked trout+ kelp caviar
HUEVOS with black beans, Pico de gallo,
FLORENTINE with steamed spinach + shallots
CANADIANA with back bacon + side of baked beans
HIPPIE goat cheese + mango
WANT TO LEARN MORE ABOUT OUR CATERING SERVICE?
Contact the Concierge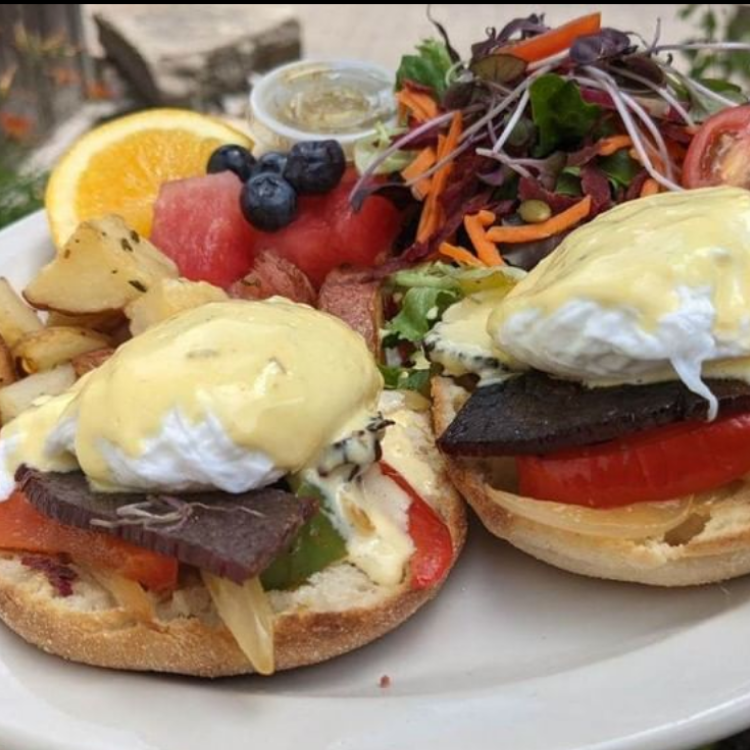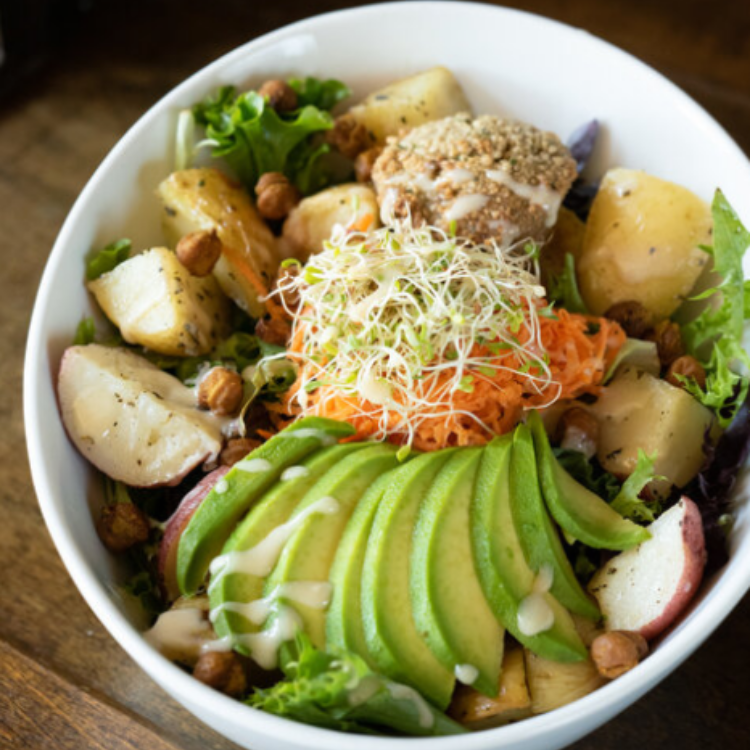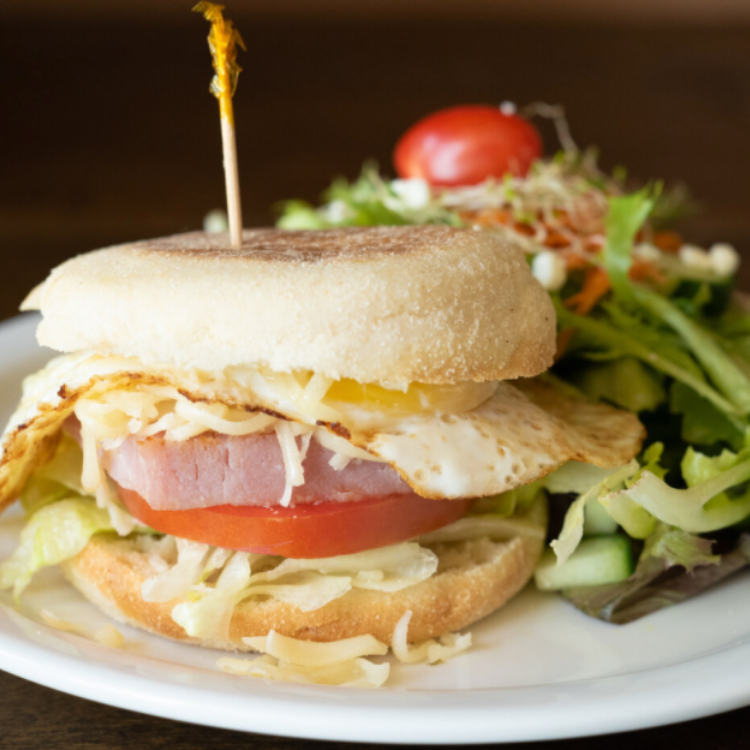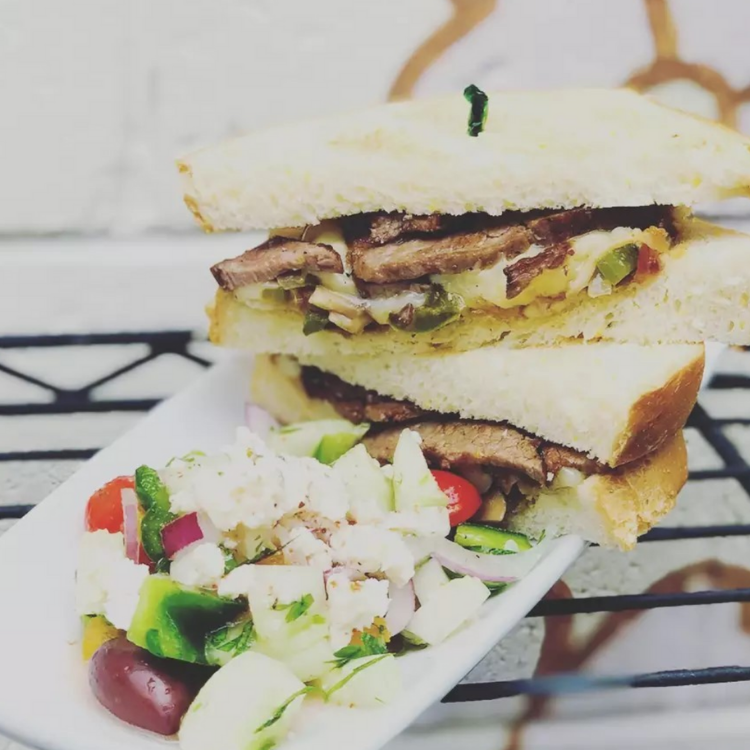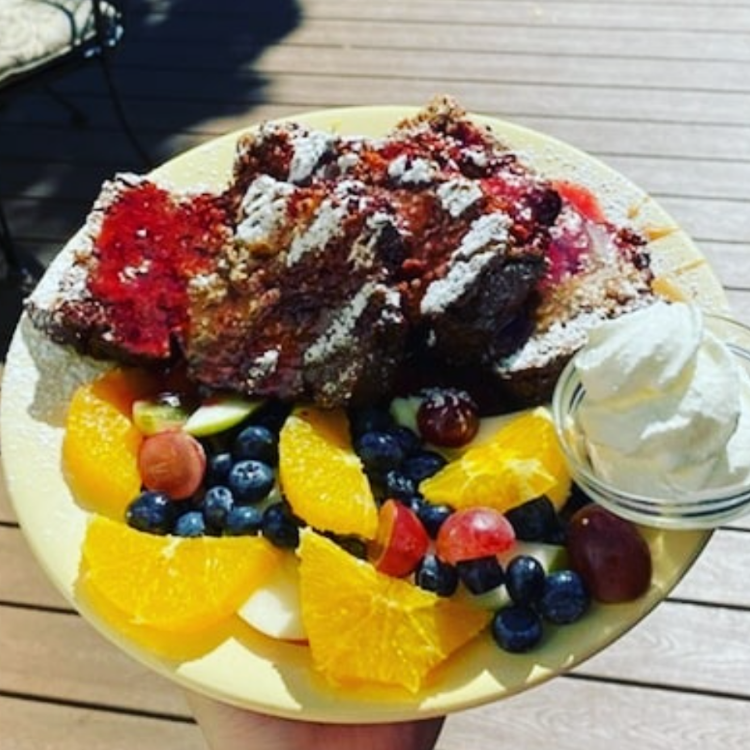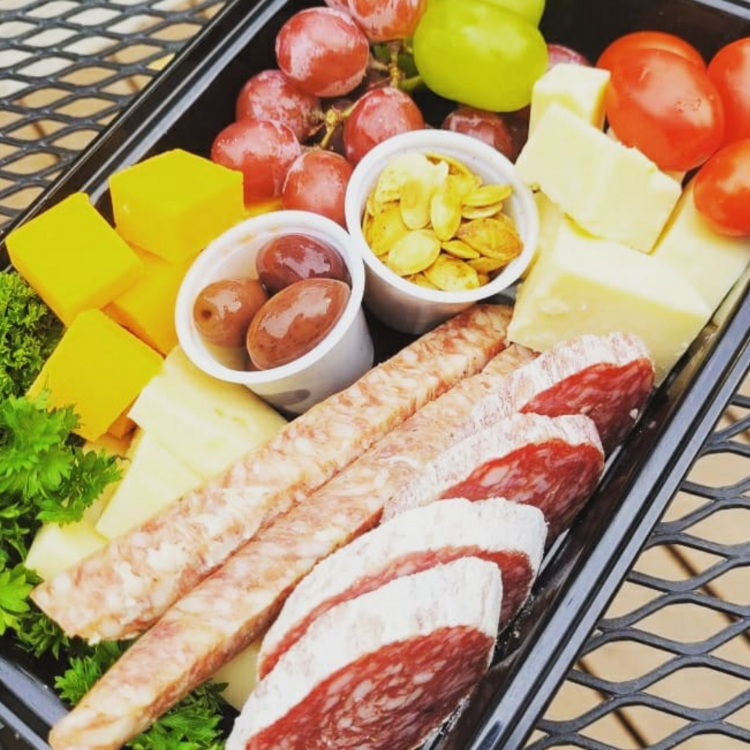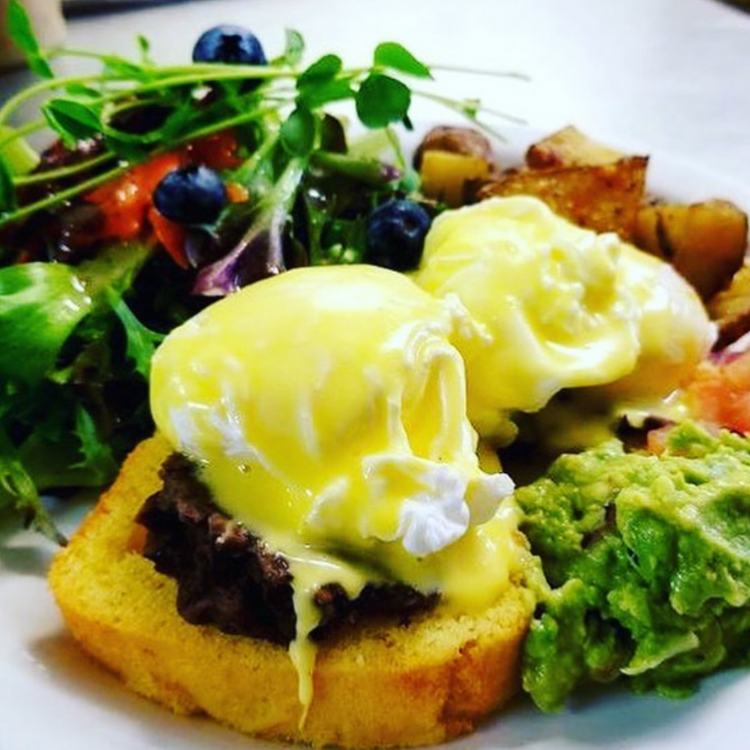 SALADS
TOUGH SALAD
sliced avocado, blue cheese, hard boiled egg & sprouts on mixed greens w/ maple vinaigrette on the side
THE BEY
sliced grapes, goat cheese, roasted beets candied walnuts w/ sprouts on mixed greens w/ raspberry vinaigrette
VEGAN BOWL
house made falafel, sliced avocado, spiced toasted chick peas, shredded carrots roasted beets + potatoes w/ side miso lemon tahini
SANDWICHES
ATB
sliced avocado, tomato + bacon on toasted molasses brown w/ mayo
Curry Turkey
lightly spiced sweet house roasted turkey w/ grapes on toasted cornmeal white w/ mayo + tomato
Egg Salad
chopped HB eggs w/ smoked paprika on cornmeal white w/ mayo & sprouts
Vegan Wrap
house made falafels w/ roasted beets pickled veggies, miso dressing & sprouts
bagel w/ cream cheese
bagel w/ cheddar
bagel w/ Swiss 
ADD ONS
side roasted potatoes
sliced avocado
bacon
back bacon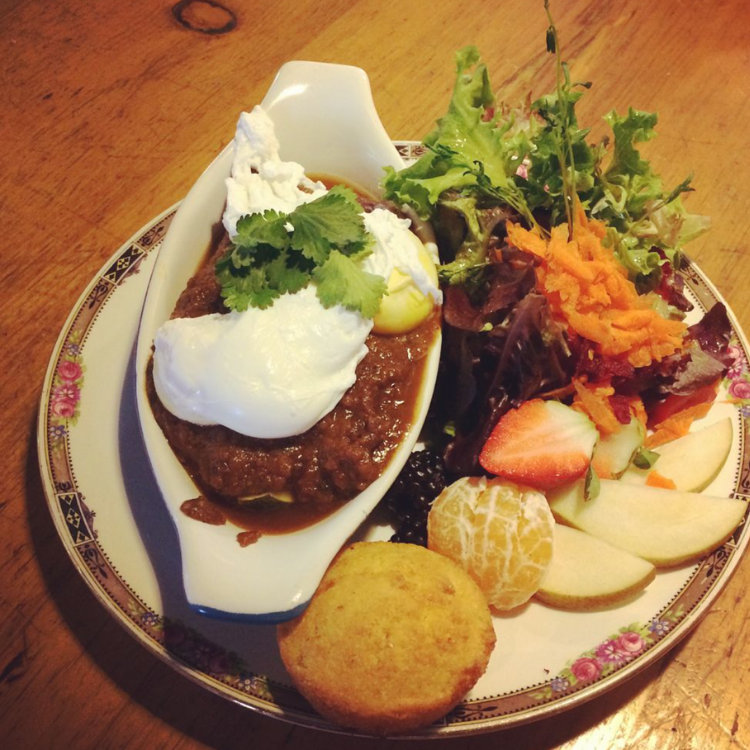 Hosting a corporate event, small executive group, team building or leadership retreat?
Bond in a stress-free environment and leave feeling reenergized and inspired!
Planning a family reunion or a small wedding?
You'll love the intimacy of our space that is both fun and relaxing.
Time to disconnect from your devices and rediscover nature?
Feed your soul with a silent and/or nature retreat!
Ready for a spa weekend?
Reconnect with your friends for a weekend of pampering and self-care!
Need to reconnect with your partner?
 Rekindle the passion with a romantic weekend getaway!
Want to reinvigorate your passion for food?
How about a cooking retreat using fresh seasonal ingredients (and cooked in our gourmet kitchen!)
Feeling creatively blocked and need to get away from the distractions and hustle of everyday life?
Stoke your creative energy on a writer's retreat!
YOUR COTTAGE COUNTRY PARADISE AWAITS YOU!
Rung Family
This is an absolutely beautiful cottage. Rented it during the 2021 summer, we had a group of 14 that included children and seniors.  
There were amenities galore that are too numerous to mention, there is something to keep all ages entertained.  

The hosts Micheal and Tara were great, communication was excellent and the booking process was seamless.
The location and views are stunning, there are no neighbours and you feel like the lake is all yours.  The location is at the end of a small Bay Area off the main section of the lake so there is zero boat traffic to be concerned with while swimming.  

There is plenty of dock space for boats, fishing and lounging.  There is also a shallow entry point off a small beach area for the younger guest and/or seniors.
There is a floating sauna that was awesome and very unique as well as a hot tub, large screened in sunroom, fire pit and bbq to use.  The bedrooms are large and more than adequate for our needs.  The kitchen is gorgeous, well stocked and lacked nothing we needed.  
If you prefer to hang out inside there is shuffleboard, pool table or IPTV to keep you entertained.  The wifi worked well and allowed some of us to do a bit of work while here.
As I said earlier there are too many features to mention them all, this is an excellent cottage in a terrific location.  Hoping to go back in 2022.  
The Smith Family
If you are looking for the perfect place to vacation in the Kawartha area, Crystal Lake is your spot! I've had the privilege of staying at "My Lakefront Cottage" two times now, once in the summer and once in the fall, and both of my experiences surpassed my expectations.
Summer at the cottage was perfect. the sandy beach, clear water, expansive dock and boat were great ways to fill our days. It was so nice to enjoy the outdoors in the privacy of the Bay, not having to worry about bothering neighbors. The floating sauna and screened in hot tub were two of my favourite amenities!
I didn't know that my summer stay could be beat, but I returned for Thanksgiving weekend with my family and the property, and surrounding property, offered just as much fun as it did in the summer. The views of the changing leaves were spectacular and the hiking trails were breathtaking.
The inside of the cottage was the perfect place to relax after day in the sun. The large kitchen was great for the chefs and bartenders in the group and the pinball machine, pool table and curling table provided hours of fun for everyone at night. Since the cottage has two large living rooms, it was easy to accommodate our large group on both floors, and the large balcony allowed us to feel like we were all together.
The owners,  Mike and Tara, were great to work with right from the start. Mike answered any questions we had promptly and thoroughly and went above and beyond to ensure that our group had what we needed to make the most out of our stay. 
We look forward returning to this oasis this summer, and for many summers to come!