Nestled in the heart of Kawartha's cottage country, lies this breathtaking lakefront cottage. Comfortably situated at the end of the bay, this property can be accessed by a private lane lined with towering white birch and spruce trees. This isolated 4000 square foot home backs onto open acres of Crown land and has plenty of nearby recreational activities for every season. It is the sole cottage at the end of the bay and shares its western shoreline with only one other property.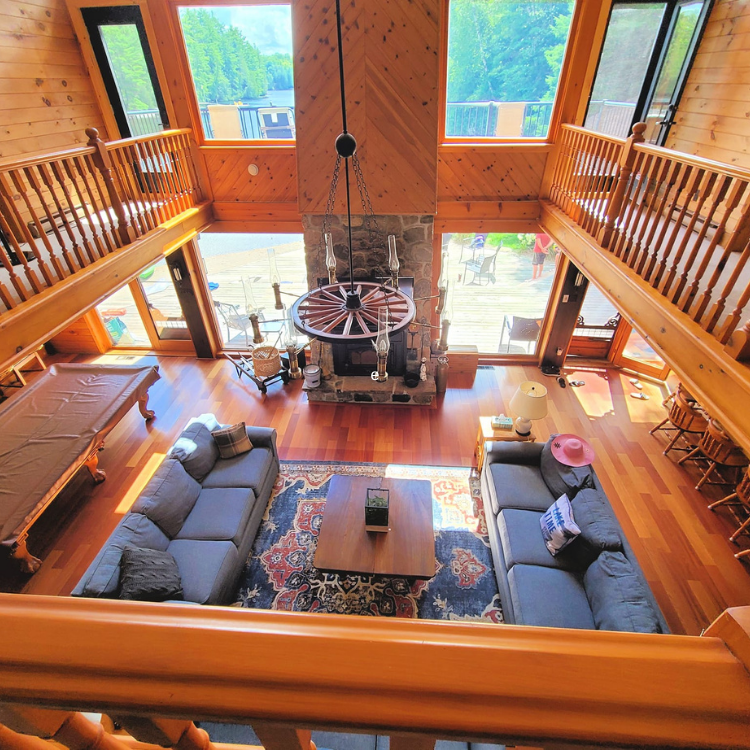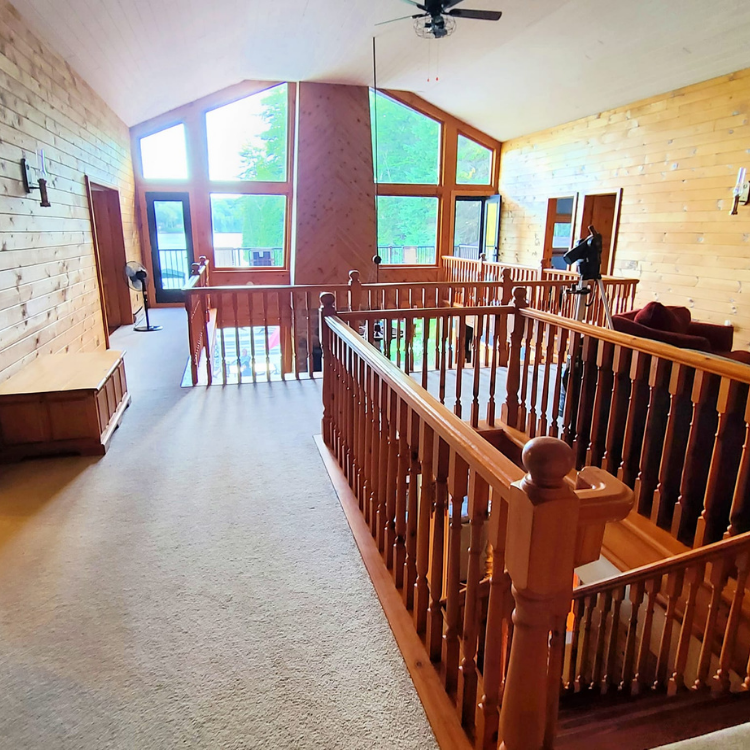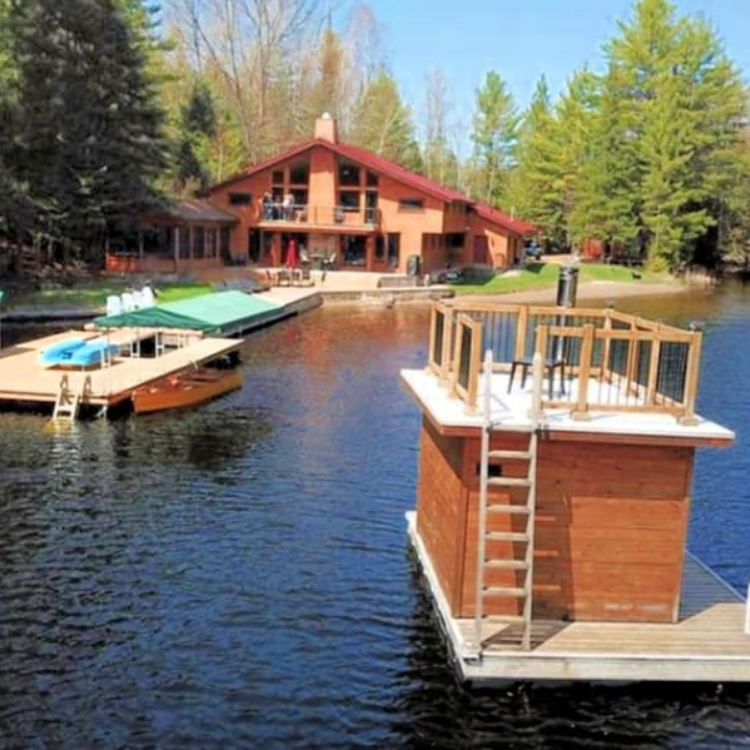 Set in tranquil natural surroundings combined with rustic, comfortable accommodations, this property is a lakeside gem waiting to be experienced! The windows, large deck and second-floor balcony have south-facing exposure with a perfect view of the private dock and waterfront. The easily accessible private beach has warm sand and a shallow walk-in, making it an ideal spot for young children to play.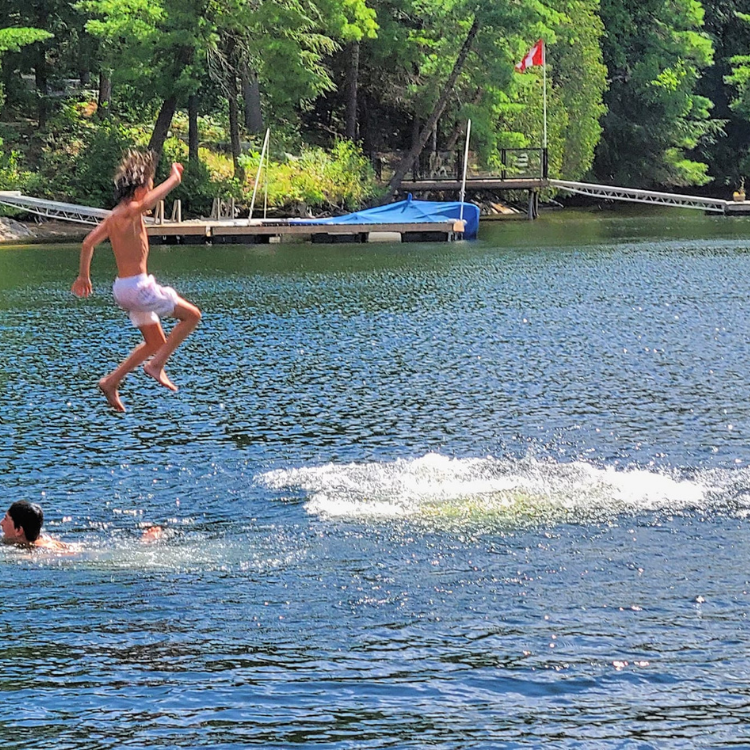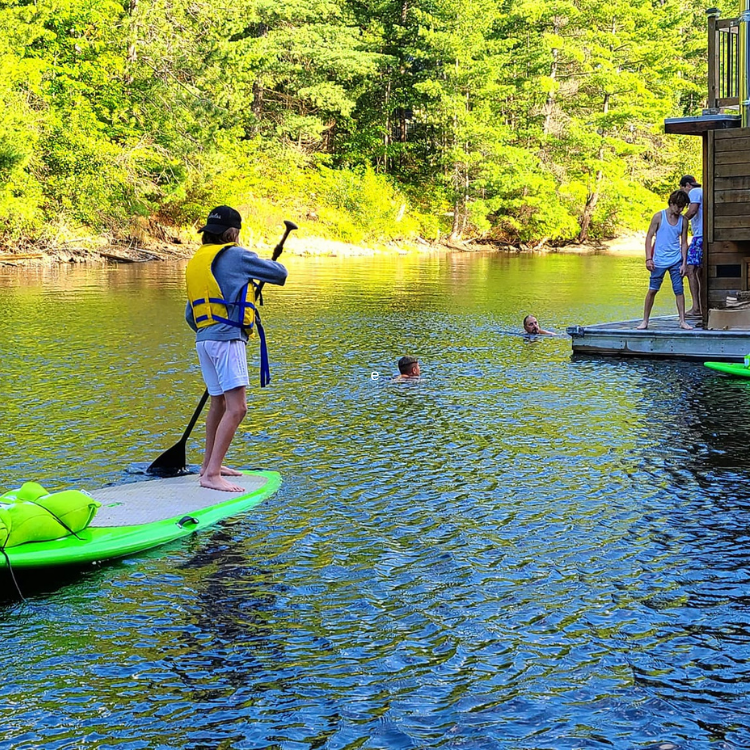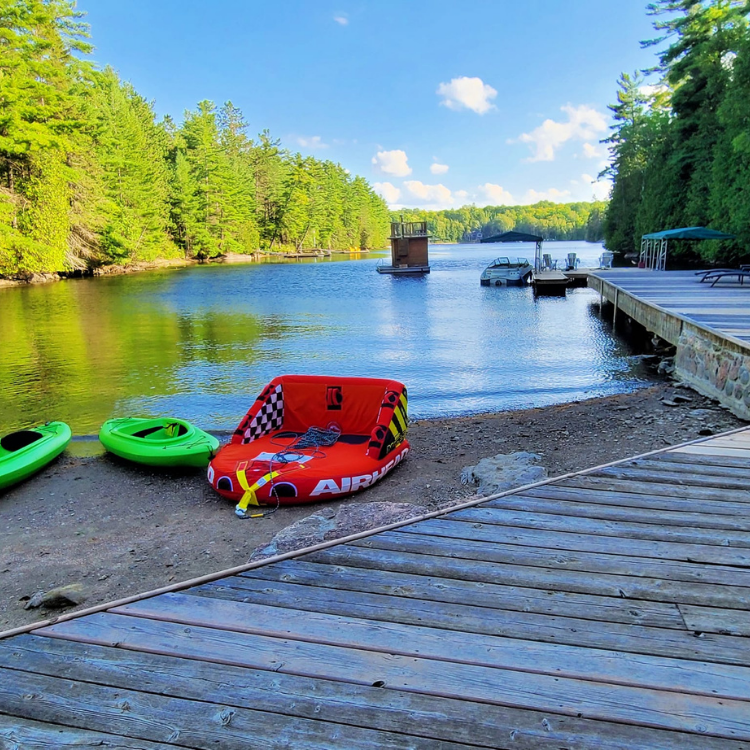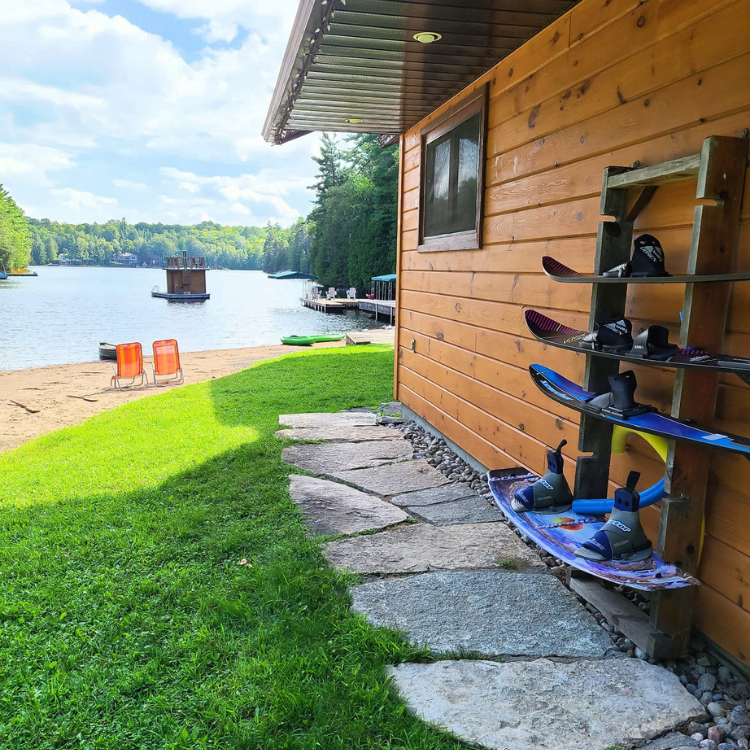 Crystal Lake is a spring-fed, five-star, feeder lake with clean water free of debris which makes it perfect for swimming, fishing, waterskiing and a myriad of other water sports.
This warm and welcoming 4-season home boasts a spectacular waterfront view and has all the amenities a vacationer could desire! The interior of the house showcases natural pine, a vaulted ceiling and pristine hardwood floors throughout the kitchen, living room and master bedroom, while the remaining five bedrooms and upstairs loungeroom have carpeting. The wide, two-story windows overlook the expansive deck, firepit, barbeque area, private dock, and beach. The large kitchen and connecting living room, with a second-floor lounge area that is separated only by a railing that overlooks the main floor, allows its guests to feel both accessible and secluded from anywhere in the house. The open concept creates a feeling of luxury and space, while the casual furnishings beckon for comfort and relaxation.
Our spacious gourmet kitchen is the perfect space for preparing large meals for your friends and family! Many hands make light work, and we have the space to accommodate many kitchen helpers! Take advantage of our island with its built-in stovetop, the large range and microwave oven that will allow you to prepare multiple items at once.  Our kitchen come fully stocked with a wine cooler, microwave oven, coffee maker and cupboards stocked with every kitchen appliance and amenity you could ever need!
Gather around the handcrafted harvest table where your whole group can dine together; shoot a game of pool or curl up by the cozy wood-burning fireplace in the spacious living room; play pinball, shuffleboard/curling, or video games in the upstairs games room, or enjoy sitting in the hot tub in the nearby screened-in porch. No matter where you are, you'll all be together!
This 6-bedroom home comfortably sleeps 16 people. The second floor has four generous-sized bedrooms, each with king-sized beds. The master bedroom also has a 3-piece ensuite and a jacuzzi tub; it connects by another door to the main hallway, allowing it to function as the primary second-floor bathroom. One of the two remaining bedrooms has a queen-size bed and a single bed, while the other has a double bunk bed with a single bed.
As warm and welcoming as the interior of the cottage is, the natural land and the surrounding acreage creates a secluded and calming sense of comfort and serenity. It invites weary travelers to slow down, unplug and appreciate its simple beauty. An abundance of trees provides shade and privacy, while an open deck, outdoor eating area and Muskoka chairs on the dock provide ample places to convene and relax while soaking up the sun's rays. End your day gathered around the fire pit roasting marshmallows and peering up at the black night sky twinkling with stars.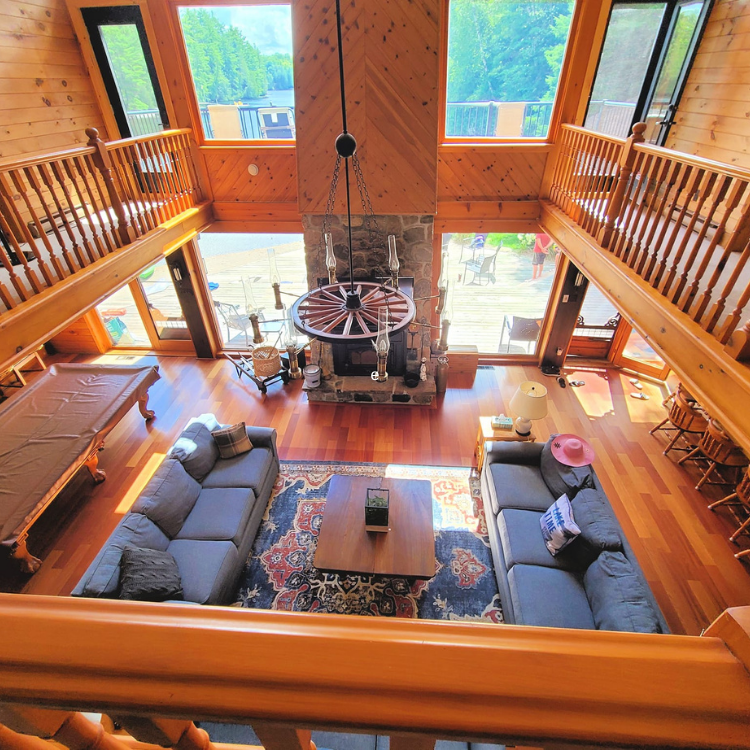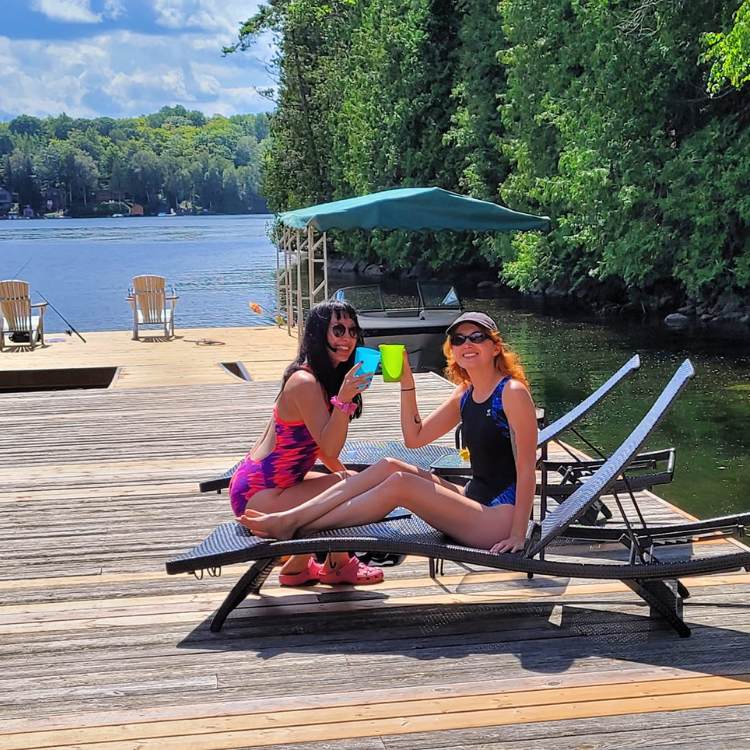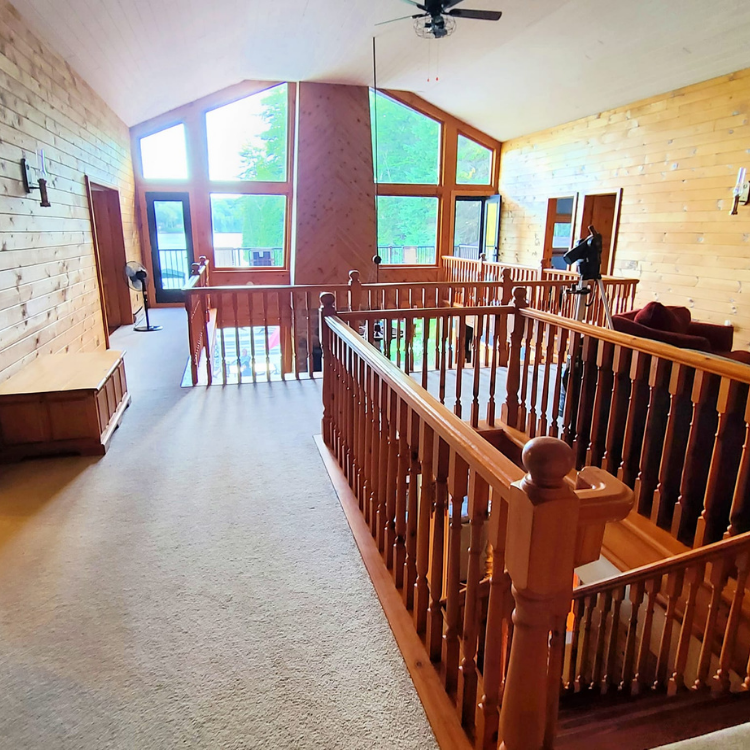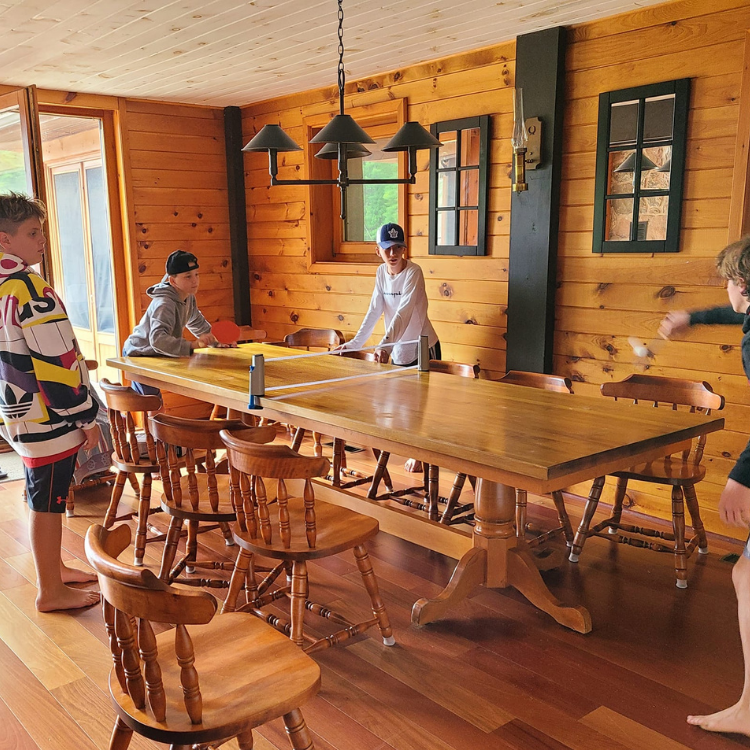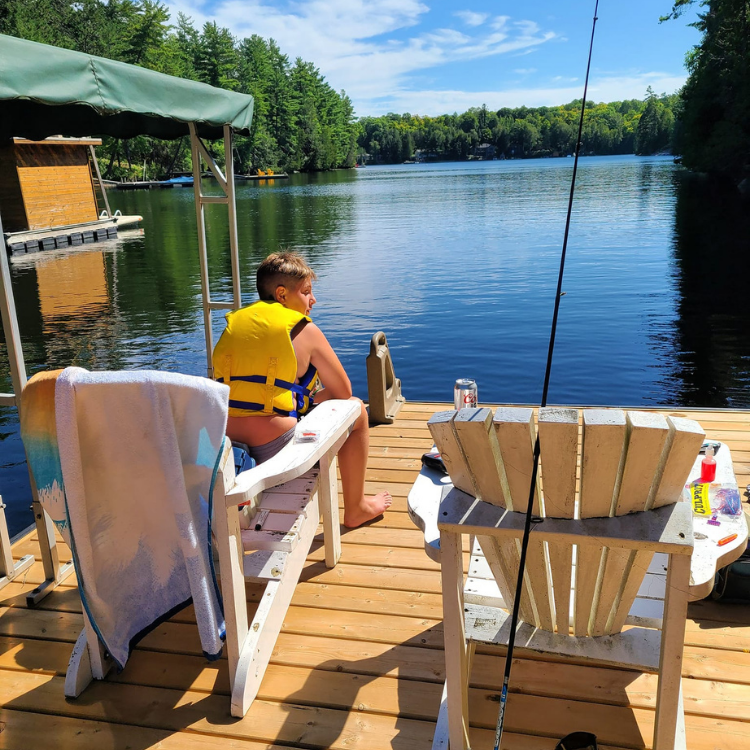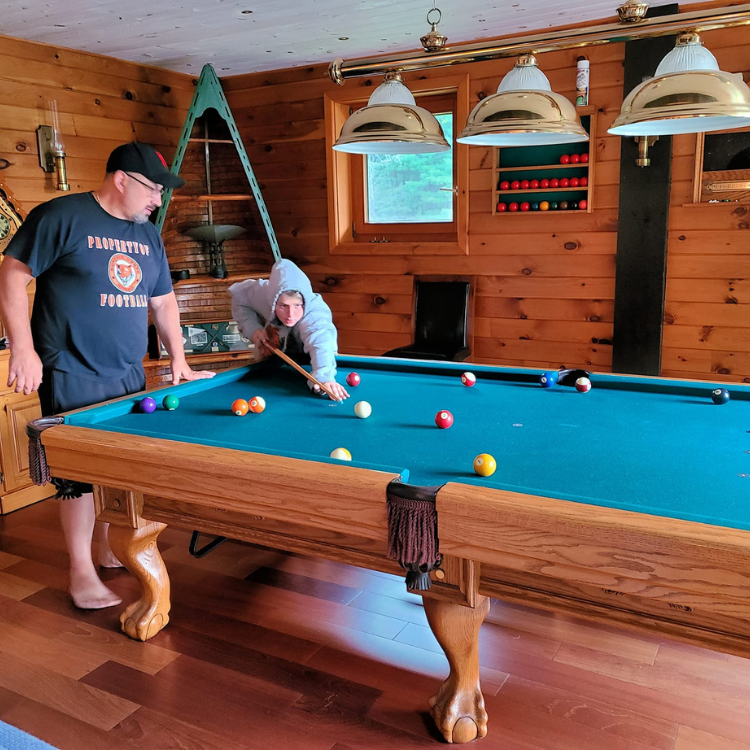 Our Cottage Is Your Perfect Destination!
Rung Family
This is an absolutely beautiful cottage. Rented it during the 2021 summer, we had a group of 14 that included children and seniors.  
There were amenities galore that are too numerous to mention, there is something to keep all ages entertained.  

The hosts Micheal and Tara were great, communication was excellent and the booking process was seamless.
The location and views are stunning, there are no neighbours and you feel like the lake is all yours.  The location is at the end of a small Bay Area off the main section of the lake so there is zero boat traffic to be concerned with while swimming.  

There is plenty of dock space for boats, fishing and lounging.  There is also a shallow entry point off a small beach area for the younger guest and/or seniors.
There is a floating sauna that was awesome and very unique as well as a hot tub, large screened in sunroom, fire pit and bbq to use.  The bedrooms are large and more than adequate for our needs.  The kitchen is gorgeous, well stocked and lacked nothing we needed.  
If you prefer to hang out inside there is shuffleboard, pool table or IPTV to keep you entertained.  The wifi worked well and allowed some of us to do a bit of work while here.
As I said earlier there are too many features to mention them all, this is an excellent cottage in a terrific location.  Hoping to go back in 2022.  
The Smith Family
If you are looking for the perfect place to vacation in the Kawartha area, Crystal Lake is your spot! I've had the privilege of staying at "My Lakefront Cottage" two times now, once in the summer and once in the fall, and both of my experiences surpassed my expectations.
Summer at the cottage was perfect. the sandy beach, clear water, expansive dock and boat were great ways to fill our days. It was so nice to enjoy the outdoors in the privacy of the Bay, not having to worry about bothering neighbors. The floating sauna and screened in hot tub were two of my favourite amenities!
I didn't know that my summer stay could be beat, but I returned for Thanksgiving weekend with my family and the property, and surrounding property, offered just as much fun as it did in the summer. The views of the changing leaves were spectacular and the hiking trails were breathtaking.
The inside of the cottage was the perfect place to relax after day in the sun. The large kitchen was great for the chefs and bartenders in the group and the pinball machine, pool table and curling table provided hours of fun for everyone at night. Since the cottage has two large living rooms, it was easy to accommodate our large group on both floors, and the large balcony allowed us to feel like we were all together.
The owners,  Mike and Tara, were great to work with right from the start. Mike answered any questions we had promptly and thoroughly and went above and beyond to ensure that our group had what we needed to make the most out of our stay. 
We look forward returning to this oasis this summer, and for many summers to come!
Hosting a corporate event, small executive group, team building or leadership retreat?
Bond in a stress-free environment and leave feeling reenergized and inspired!
Planning a family reunion or a small wedding?
You'll love the intimacy of our space that is both fun and relaxing.
Time to disconnect from your devices and rediscover nature?
Feed your soul with a silent and/or nature retreat!
Ready for a spa weekend?
Reconnect with your friends for a weekend of pampering and self-care!
Need to reconnect with your partner?
 Rekindle the passion with a romantic weekend getaway!
Want to reinvigorate your passion for food?
How about a cooking retreat using fresh seasonal ingredients (and cooked in our gourmet kitchen!)
Feeling creatively blocked and need to get away from the distractions and hustle of everyday life?
Stoke your creative energy on a writer's retreat!
No Matter What the Reason Or Event
Your Cottage Country Paradise Awaits You!