Our spacious gourmet kitchen is the perfect space for preparing large meals for your friends and family! Many hands make light work, and we have the space to accommodate many kitchen helpers! Take advantage of our island with its built-in stovetop, the large range and microwave oven that will allow you to prepare multiple items at once.  Our kitchen come fully stocked with a wine cooler, microwave oven, coffee maker and cupboards stocked with every kitchen appliance and amenity you could ever need!
Gather around the handcrafted harvest table where your whole group can dine together; shoot a game of pool or curl up by the cozy wood-burning fireplace in the spacious living room; play pinball, shuffleboard/curling, or video games in the upstairs games room, or enjoy sitting in the hot tub in the nearby screened-in porch. No matter where you are, you'll all be together!
This 6-bedroom home comfortably sleeps 16 people. The second floor has four generous-sized bedrooms, each with king-sized beds. The master bedroom also has a 3-piece ensuite and a jacuzzi tub; it connects by another door to the main hallway, allowing it to function as the primary second-floor bathroom. One of the two remaining bedrooms has a queen-size bed and a single bed, while the other has a double bunk bed with a single bed.
As warm and welcoming as the interior of the cottage is, the natural land and the surrounding acreage creates a secluded and calming sense of comfort and serenity. It invites weary travelers to slow down, unplug and appreciate its simple beauty. An abundance of trees provides shade and privacy, while an open deck, outdoor eating area and Muskoka chairs on the dock provide ample places to convene and relax while soaking up the sun's rays. End your day gathered around the fire pit roasting marshmallows and peering up at the black night sky twinkling with stars.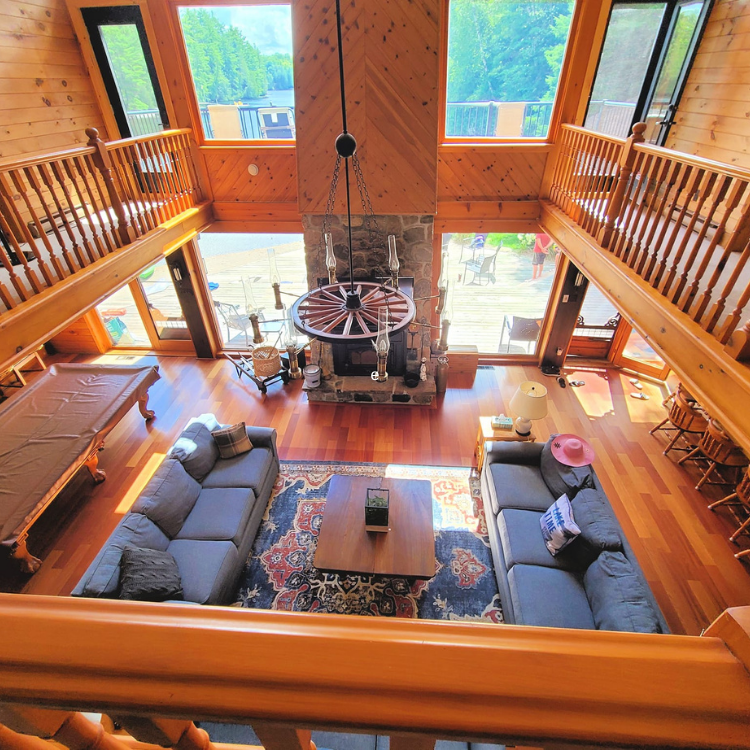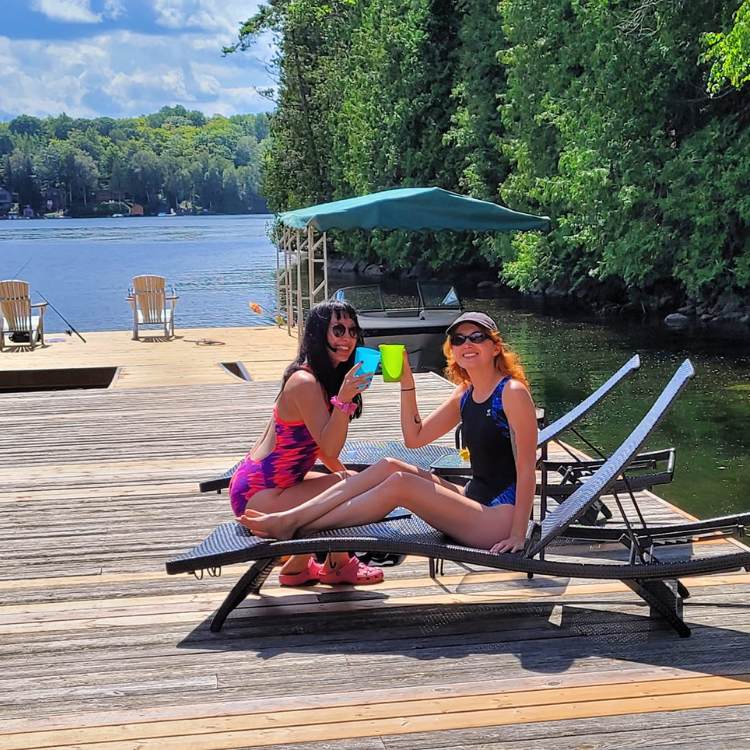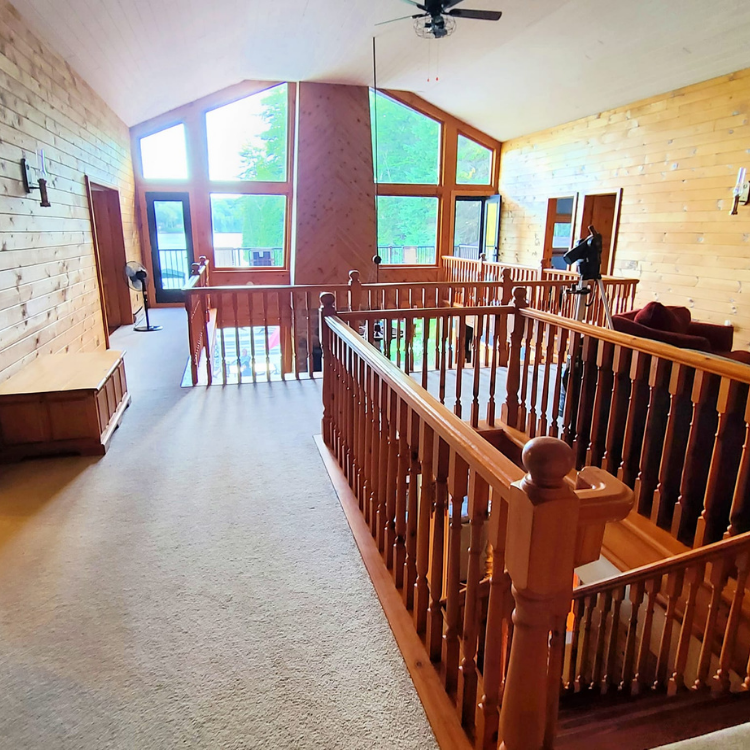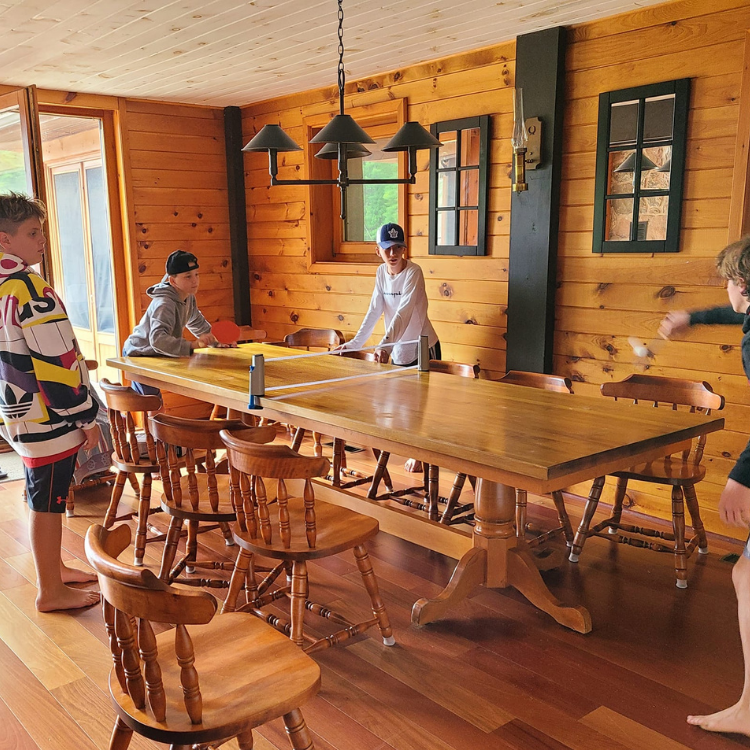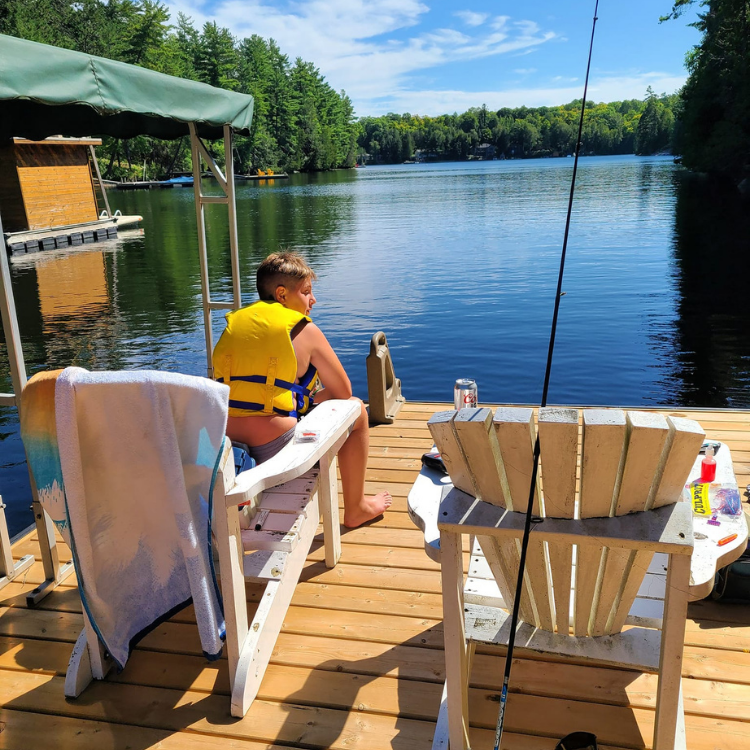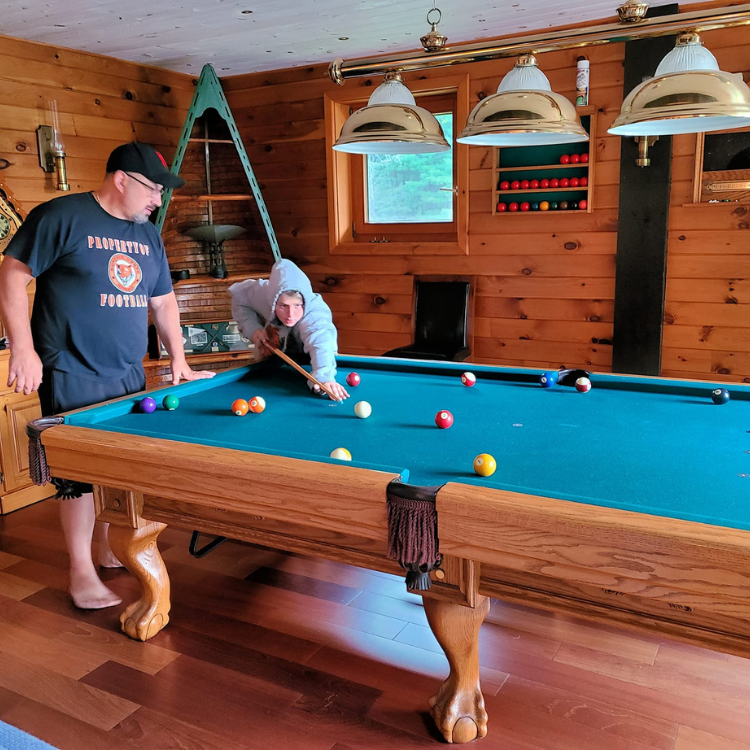 Number of Bedrooms: 
6 – 5 bedrooms and 1 master suite
Max number of Occupants: 16
Square footage: App 4000 sq ft
Privacy Rating: Excellent
Exposure: South
Access to private decks and private docks, as well as a large, private sandy beach

Boat launch on property; dock slips also available for your boat

Water volleyball net and a basketball net

Outdoor games such as lawn darts, bocce ball, Can Jam, etc.

Large inflatables, floating island

Floating lounger / jumping deck 

Water trampoline 

Paddleboat and canoe (*some life jackets available)

Stand-up paddle boards and kayaks

Outdoor fire pit

Propane barbeque 

Deck table and chairs for outdoor dining

High-top table with bar stools

Outdoor seating, including Muskoka chairs, sun loungers and Tommy Bahama chairs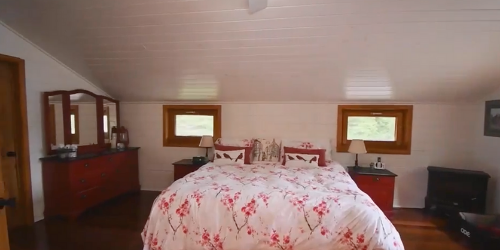 Six bedrooms, including 1 master (

upper level

 – 4 bedrooms with king-sized beds; 1 bedroom with queen-sized bed and single bed; 1 bedroom with double-sized bunk beds and single bed).

Two 3-piece bathrooms; 1 (

main level

); 1 3-piece ensuite with hot tub (upper level) 

Wood-burning fireplace with supplemental furnace heat 

3 large couches (living room, main level)

1 couch and 2 chairs (lounge room, upper level)

Second floor balcony, facing waterfront

400 square ft screened in sunroom with sectional lounger (seats 12) 

Hot tub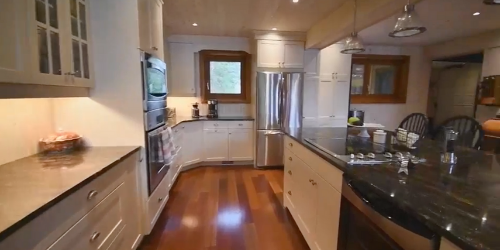 Fully equipped gourmet kitchen 

Additional kitchen features: Microwave, dishwasher, double sink, large range; built-in 4-burner propane stove-top

Wine cooler

Spacious island with 4 bar stools; ample counter space

Stocked with all kitchen amenities, including Keurig and Nespresso machines.

Handcrafted harvest table (seats 12-16)
Whether you want to engage in adventurous activities or simply enjoy a good book while swaying in the hammock, our cottage experience can be customized to fit your perfect vacation getaway!
Rung Family
This is an absolutely beautiful cottage. Rented it during the 2021 summer, we had a group of 14 that included children and seniors.  
There were amenities galore that are too numerous to mention, there is something to keep all ages entertained.  

The hosts Micheal and Tara were great, communication was excellent and the booking process was seamless.
The location and views are stunning, there are no neighbours and you feel like the lake is all yours.  The location is at the end of a small Bay Area off the main section of the lake so there is zero boat traffic to be concerned with while swimming.  

There is plenty of dock space for boats, fishing and lounging.  There is also a shallow entry point off a small beach area for the younger guest and/or seniors.
There is a floating sauna that was awesome and very unique as well as a hot tub, large screened in sunroom, fire pit and bbq to use.  The bedrooms are large and more than adequate for our needs.  The kitchen is gorgeous, well stocked and lacked nothing we needed.  
If you prefer to hang out inside there is shuffleboard, pool table or IPTV to keep you entertained.  The wifi worked well and allowed some of us to do a bit of work while here.
As I said earlier there are too many features to mention them all, this is an excellent cottage in a terrific location.  Hoping to go back in 2022.  
The Smith Family
If you are looking for the perfect place to vacation in the Kawartha area, Crystal Lake is your spot! I've had the privilege of staying at "My Lakefront Cottage" two times now, once in the summer and once in the fall, and both of my experiences surpassed my expectations.
Summer at the cottage was perfect. the sandy beach, clear water, expansive dock and boat were great ways to fill our days. It was so nice to enjoy the outdoors in the privacy of the Bay, not having to worry about bothering neighbors. The floating sauna and screened in hot tub were two of my favourite amenities!
I didn't know that my summer stay could be beat, but I returned for Thanksgiving weekend with my family and the property, and surrounding property, offered just as much fun as it did in the summer. The views of the changing leaves were spectacular and the hiking trails were breathtaking.
The inside of the cottage was the perfect place to relax after day in the sun. The large kitchen was great for the chefs and bartenders in the group and the pinball machine, pool table and curling table provided hours of fun for everyone at night. Since the cottage has two large living rooms, it was easy to accommodate our large group on both floors, and the large balcony allowed us to feel like we were all together.
The owners,  Mike and Tara, were great to work with right from the start. Mike answered any questions we had promptly and thoroughly and went above and beyond to ensure that our group had what we needed to make the most out of our stay. 
We look forward returning to this oasis this summer, and for many summers to come!